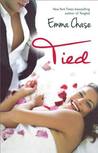 Tied by Emma Chase
My rating: 5 of 5 teacups
Tied is the fourth and final book in the Tangled series and cannot be read as a standalone.  Books one, two, and four are about Drew and Kate. Book three is Matthew and Dee's story. This review contains spoilers related to the previous books.
This book felt like a heartfelt love letter to fans of this wonderful series. Emma Chase's remarkable ability to write so convincingly from a male point of view is what drew me to the first book, Tangled. The amazing Drew Evans has earned a top spot on my list of favorite book boyfriends. Although Twisted is told from Kate's perspective, Drew is back to tell the story in Tied in his own his own unique way.
Drew and Kate are five years into their relationship and stronger than ever. The first part of the book shows how they have adjusted to life as parents. It's delightful seeing Drew in action, being the wonderful dad I knew he would be.
Kate and Drew are finally ready to walk down the aisle but first it's time for some pre-wedding festivities. Drew, Kate and their friends fly off to Las Vegas for their respective bachelor and bachelorette parties. You can imagine the potential for trouble in Sin City with this crazy crew.
I was delighted to see all of the highly entertaining secondary characters return. It's like catching up with old friends. There's trouble in paradise for one couple while another pair has just experienced a major life event.
Once again, this book was all about Drew for me. He's always been cocky and funny but he reaches new heights in this book.

"She's got you under her evil spell. You've been twat-notized by the golden watch between Dee's legs."

Drew's witty banter; his hysterical lessons with Billy in attracting ladies; the antics with his friends; his thoughts on fatherhood and interactions with little James all made me laugh so hard I had tears rolling down my face. But the thing that touched my heart was seeing just how much Drew has grown in his relationship with Kate since the beginning of the series.

"I love you, Kate. I'm going to love you forever. And whatever comes after forever—I'm going to love you then too."

I found this book to be more sexy, more hilarious, and more heartwarming than I expected. It's just… more. What a great way to end a fantastic series! I'll miss you, Drew.