Me Before You

by Jojo Moyes
Published by Penguin on December 31st 2012
Genres: Fiction, Contemporary Women, Romance, Contemporary
Pages: 400
Buy on Amazon
Goodreads

They had nothing in common until love gave them everything to lose . . .
Louisa Clark is an ordinary girl living an exceedingly ordinary life—steady boyfriend, close family—who has barely been farther afield than their tiny village. She takes a badly needed job working for ex–Master of the Universe Will Traynor, who is wheelchair bound after an accident. Will has always lived a huge life—big deals, extreme sports, worldwide travel—and now he's pretty sure he cannot live the way he is.
Will is acerbic, moody, bossy—but Lou refuses to treat him with kid gloves, and soon his happiness means more to her than she expected. When she learns that Will has shocking plans of his own, she sets out to show him that life is still worth living.
As much as I like a good love story, I wouldn't call myself a romantic. Not by a long shot. In fact, I can be pretty cold-hearted when it comes to romance books, remaining emotionless in the face of tragic heartbreak and loss. The Fault in Our Stars didn't move me. Eleanor & Park was cute, but still an average read for me.
There's just certain things that I don't like. Emotionally manipulative books that feel as if the author set out with an agenda to tug at my heart strings – that would be up there with the worst. I guess I subconsciously rebel when I can see what the author's trying to do to my feelings. I avoid a lot of adult chick lit for this reason – because experience has shown that most of these books are like Lifetime movies: melodramatic and cheesily message-driven.
But somehow – despite my reluctance to try this book because it seemed it would fall into all the aforementioned boxes – I ended up caving under the pressure and grabbing this book from my local library. I didn't expect much. I was just going to try a little bit and see how it went, feeling confident that it would be crappy and I would be right. But hell, I got schooled.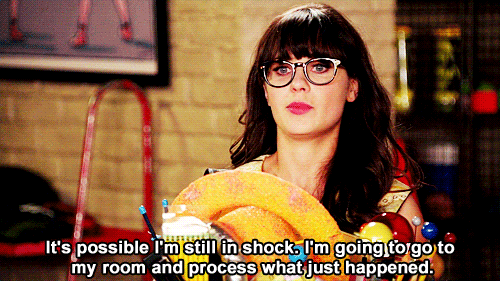 I just… I can't even pretend anymore, screw the book snobbery, I thought Me Before You was wonderful.
I laughed.
I cried.
I shipped like crazy.
I stayed up most of the night.
Being proven wrong may never have felt so good.
I got the giggles about halfway through chapter one and struggled to get rid of them. Humour books are always a difficult sell because I guess it always depends on what you find funny… but I found Lou Clark to be an hilarious heroine. She's one of those charming but unfortunate individuals that finds herself in numerous awkward situations but somehow gets through them and just warms your heart with her delightful lack of propriety.
I don't know if there is really such a thing as a "British sense of humour" but I've enjoyed a bunch of British chick lit/humour with similar MCs – Bridget Jones, Confessions of Georgia Nicholson – so maybe there's a pattern here with my tastes.
If you're considering this book but think you're a shameless unromantic like me, DO NOT read any quotes from it. People keep pulling up these quotes about the meaning of life and carpe diem and it makes the whole thing seem much cheesier than it is. I thought there was a pleasant lack of cheese, hehe. It's also nowhere near as romantic as everything tries to make you think: the cover (the UK one is even worse), the blurb, the title… when actually there's very little romance. There is a touch of finding love in unexpected places and against the odds, but the main focus of this book is about life and the importance of choices.
If you haven't already been told, the story is about Lou who needs a job and Will who needs a carer after an accident left him paralysed. Completely unable to move anything below his mid torso, Will longs for death and wants to go to Switzerland to put an end to his misery. Horrified by this discovery, Lou sets out to improve his life and give him a reason to live and look forward to each day. The relationship between them is told in such a wonderful way and develops through several stages, each filled with hilarity.
I think people's reactions, emotions and decisions felt completely realistic in Me Before You, even if I didn't always like them. The whole book was filled with the funny, ridiculous situations that we expect to find in comic fiction, but balanced out with a hard dose of reality. It makes you think about things you didn't think about before without seeming like the author wanted to make you think about them. Things like just how depressing the lack of wheelchair access is in most venues. But there's a great balance between the funny and the serious, so the latter never becomes too much.
This book made me feel all the emotions without seeming to try too hard. Love was found in a very unexpected place and I definitely want to check out the author's other work.