In case you all didn't know, I recently finished An Infinite Number of Parallel Universes, a YA contemporary novel that came out this October. I won't have my review up until tomorrow, but to share my excitement over the book, I have a little interview with the author himself, Randy Ribay! Stick around for the INTERNATIONAL hardcover giveaway at the end of this post!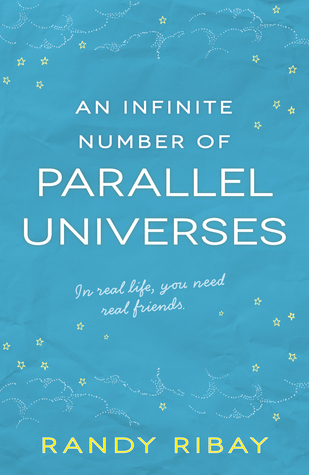 An Infinite Number of Parallel Universes by Randy Ribay
Published by Merit Press on October 16th 2015
Genres: Young Adult, Contemporary, Coming of Age, Romance, LGBT
Pages: 240
Buy on Amazon
Goodreads

As their senior year approaches, four diverse friends joined by their weekly Dungeons & Dragons game struggle to figure out real life. Archie's trying to cope with the lingering effects of his parents' divorce, Mari's considering an opportunity to contact her biological mother, Dante's working up the courage to come out to his friends, and Sam's clinging to a failing relationship. The four eventually embark on a cross-country road trip in an attempt to solve–or to avoid–their problems.
Told in the narrative style of Akira Kurosawa's RASHOMAN, AN INFINITE NUMBER OF PARALLEL UNIVERSES is at turns geeky, funny, and lyrical as it tells a story about that time in life when friends need each other to become more than just people that hang out.

Aimee: Hi Randy! Thank you so much for stopping by The Book Geek today, and for taking the time to share a little interview with us! Fair warning: I usually ask really random questions. 🙂
1. Which of the four main characters from An Infinite Number of Parallel Universes would be most excited to come out of the book to meet you and why?
It's a really tough call, but I have to go with Mari. As a fellow writer, I think she'd have a lot to ask (and say) about the story I wrote her into. Also, I'd like to pet Macadamia [Mari's dog].
2. Which of your characters will die first in a horror movie and why?
Sam. He'd probably get all mopey about something, wander away from the group, and then get horribly murdered.
3. What are each of your characters' hobbies aside from gaming?
Archie: Mathematics, learning about new things.
Mari: Writing, reading, camping with her family.
Dante: Building and repairing computers, swimming, sitting under nice trees.
Sam: Drawing pictures he'll never show anyone, trolling on the Internet.
4. (This is a question I LOVE to ask.) Which of your characters is most likely to become a YA author, and what will their debut novel be about?
Mari, of course! As the Dungeon Master, she's already written a whole bunch of stories and campaigns for the group, so she's already got mad skillz. I think her debut novel would probably be about a fantasy story with a bisexual, biracial kick-ass heroine who saves the world.
5. Share a GIF reaction describing how you felt when you finished writing your book!
ONE lucky winner will receive a HARDCOVER copy of An Infinite Number of Parallel Universes! This giveaway is open internationally. For full terms and conditions, check out the Rafflecopter.
a Rafflecopter giveaway