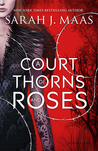 A Court of Thorns and Roses by Sarah J. Maas
My rating: 2 of 5 teacups
Maybe my rating comes as a surprise or even – if you care – a disappointment, but let me assure you: no one is more surprised or disappointed than I am.
I've had this book on my TBR ever since it appeared on Goodreads without a title, cover or description. I started reading it as soon as it became available and the array of positive reviews from my friends and strangers alike made me feel sure I would love it. But I didn't. It is possible I expected all the wrong things from A Court of Thorns and Roses, and maybe my review can prevent others from doing the same.
Here's what I expected: an intricate fantasy world, supernatural politics and alliances, fast-paced action, a sensual romance – perhaps similar to Cruel Beauty and other Beauty and the Beast retellings, and a flawed but likable heroine.
But this book is, if you ask me, nothing more or less than softcore erotica. Which is fine, if that's what you're looking for.
I personally thought that the fantasy aspect felt like trimmings around a story that was all about a romance between Feyre (the narrator) and Tamlin (a High Lord of the Fae). There are some titillating scenes where Tamlin bites Feyre's neck and they have sex – undoubtedly the best bits of the book and I won't pretend I didn't feel a little hot under the collar myself. But the "ancient wicked shadow" promised in the blurb is only really a source of more romantic angst for Feyre and Tamlin.
However, I *do* like a good romance as much as anyone, so there are other reasons this book didn't quite work for me. In order to express what I mean, I'm going to compare A Court of Thorns and Roses to Cruel Beauty, which is, in my opinion, a better book.
In CB, I felt the chemistry between Nyx and Ignifex as soon as their loaded banter started to fill the pages. They were sexy together, Ignifex was an evil ruler (which was a real problem for their relationship) with blood-red eyes, and the supernatural part of the book was creepy, weird and completely unique. Despite enjoying the actual non-PG scenes in A Court of Thorns and Roses, I never felt any real chemistry between Feyre and Tamlin or any realistic challenge to their relationship.
What makes Beauty and the Beast such a compelling romance? One that demands to be told over and over again in so many different ways? I'll tell you what it is: it's the obstacles, the challenges, the improbability… how can a young woman come to love an ugly beast? We ask. I'll prove it's possible! The author replies. That's why readers fall in love with the beast again and again, even when he is furry and has horns like the Disney version. I loved the Disney beast.
Tamlin is not a beast.
"Even as he bit out the words, I couldn't ignore the sheer male beauty of that strong jaw, the richness of his golden-tan skin."
Oh my, how could a poor young woman ever love a pretty-faced, golden-haired, completely not evil Fae prince? How weird.
Maas is a good writer and the beginning – before Feyre is taken to the Fae world – made me believe a great book was on the way. When Maas writes action, she writes action really well. But there was far too little of it in this book. It came in behind the descriptions of beautiful Fae men and the Fae palace.
In short: It just wasn't nasty enough. In truth, this felt more like an extended Cinderella retelling than what it was supposed to be. A girl lives in poverty and looks after her rather annoying sisters until one day she is swept up by a prince who takes her to his beautiful palace (after about three chapters). I just find it hard to recommend this when I think Cruel Beauty is similar and yet so much better.